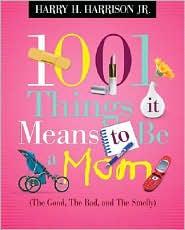 I came across a little book called, 1001 Things It Means To Be Mom, by Harry H. Harrison Jr. It has great short sayings that describe what being a mom is all about... the good, the bad, and the smelly! I thought I would share a few of the quotes from time to time. Moms work so hard and are truly amazing! I'm always amazed how one person in our life can bring such joy and love and teach us what life is truly all about. I hope you enjoy these sayings as much as I do!
Being a mom means thinking you're the luckiest person in the world.
Being a mom means being a role model.
Being a mom means constantly second-guessing yourself at home even though you have absolutely no trouble making decisions at the office.
Being a mom means getting punched and kicked in bed by your baby and telling yourself how sweet it is.
Being a mom means accepting you're going to show up late sometimes. In fact, people are lucky you show up at all.
Being a mom means silently thanking God for piles of dirty laundry and all the toys lying on the kitchen floor.
Being a mom means teaching your kids that certain things in life are worth sacrificing for.
Being a mom means treasuring the simple things in life.